!LINK REL="alternate" TITLE="RSS" HREF="http://feeds2.feedburner.com/fmcnews" TYPE="application/rss+xml" />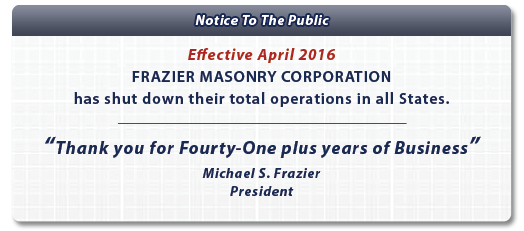 About Frazier Masonry Corporation


Frazier Masonry Corporation is a commercial masonry and concrete contractor that was founded in 1974 by Don Frazier. His son Mike now operates the company as president. Frazier upholds its founding philosophy of "Customers First", while maintaining an outstanding reputation for professionalism, an enduring commitment to quality, and an ongoing dedication to safety. Recognized for superior craftsmanship in the construction industry, Frazier provides unparalleled excellence in value engineering, preconstruction planning, and schedule-driven projects.

With a strong foundation in leadership and communication, Frazier has maintained an enduring team of professionals comprised of talented, dedicated and loyal managers and craftsmen. More than 35 employees have worked for the company for 10+ years, and an impressive number have served as dedicated employees for more than two decades. It is this type of reciprocated commitment that distinguishes Frazier's long-standing integrity in the industry.

Frazier believes in delivering the best value in the masonry/concrete industry and endeavors to position experienced construction experts on every project undertaken to uphold its commitment to quality and customer service.

Frazier is a member of the following professional organizations:



Frazier helped us complete the project ahead of schedule (...) and was instrumental in helping us obtain an Outstanding Final Evaluation for the project. This was a job well done. We look forward to working with Frazier Masonry on future projects.


- Dan Billings - Project Manager - Straub Construction, Inc.