!LINK REL="alternate" TITLE="RSS" HREF="http://feeds2.feedburner.com/fmcnews" TYPE="application/rss+xml" />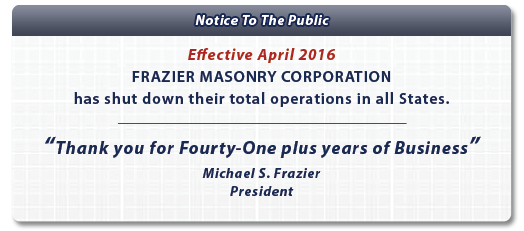 Frazier Masonry Corporation's Update

01 Mar 2016

As of September 2015 Frazier Masonry Corporation has stopped all operations and surrendered its licenses in the state of Nevada. For further inquiries contact the Lancaster office at 661-942-1287.

Frazier helped us complete the project ahead of schedule (...) and was instrumental in helping us obtain an Outstanding Final Evaluation for the project. This was a job well done. We look forward to working with Frazier Masonry on future projects.


- Dan Billings - Project Manager - Straub Construction, Inc.